DUORO SERVICES Australia
CREATE AUTHORIZED DEALER
Official sales, spare parts & rotator service centre
CREATE
RC5 Series & RC10s Rotators

NEW Azimuth Rotator sets available on request
KUR02 Page Updated 24/06/2022 
Due to the fluctuation in exchange rates there are no prices listed.
All NEW rotators etc that I have in stock are listed on the rotator sales page.

Please contact me for a quotation on your requirements & up to date prices.
All over seas orders will be shipped direct from Create factory to save on import duties
, taxes into Australia, plus saving on freight costs.
You will have to pay import duties & taxes etc when entering your country.
All prices supplied will be in Australian Dollars (AUD).
DUORO SERVICES an authorised dealer & rotator services/repair centre for CREATE (Creative Design Corp.)
The Rotators:- The RC5 was designed for medium size antennas whilst the RC5A will handle large antennas & arrays. The RC5B is for extra large antenna systems & all are designed to be mounted with-in a tower or side mounting or track system with a mast bearing or two above them & also can be mounted to a pipe mast with the MC-2 lower mast clamp/flange adaptor.
All these rotators employ 1/60 worm gear drive (except RC5B-4/P it has 1/77 worm ratio) into 2 stage reduction gearing, giving a total of 1,800 : 1 gear ratio (RC5B-4/P has 2,309 : 1 ratio), all driven by a high torque 28v AC motor (except RC5-1DC it uses a 12v DC motor & has 1/77 worm ratio with a total of 2,309 : 1 ratio), all able to rotate a full 380 degrees.  They have low backlash with high rotation torque powerful braking without relying on any auxiliary brake mechanism.  Gears are made of high tensile steel except the RC5-1, -3 & DC which uses some zinc alloy gears.
The Controllers:- The (-1,-2 & DC) are economy versions which comes standard with Dial Variable Speed control & momentary (hold on) direction switch..
Whist (-3 & -4) has Dial Pre-Set function & Dial Variable Speed control plus momentary (hold on) direction switch.
And finally (-3P & -4P) have Dial Pre-Set function, Dial Variable Speed control & Remote Computer Control .
All models have a full circle display & employ a single on-off-on manual paddle direction switch.
Now Available with a New Option:- 250mm flying control cable lead, to make fitting within towers easier, POA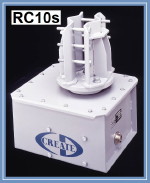 Model / Description

RC5-1DC

..

RC5-1

..

RC5-3

RC5-3P

RC5A-2

RC5A-3

RC5A-3P

RC5B-3

RC5B-3P

RC5B-4

RC5B-4P

RC10S

RC10SP

Antenna Wind Area (m Sq)
1.2
2.5
3.0
 
Rotation Torque (Kg/m)
5
6
16
22
30
Brake Torque (Kg/m)
90
80
90
200
250
400
Total gear ratio
2,309:1
1,800:1
2,309:1
1,800:1 
Rotation Angle (degrees)
380
Mast Size (mm)
48 ~ 63
60~77
Mast Clamp Part Number
MC601
MC621
MC641
Mast Clamp Material
Composite hi strength Alloy
Composite hi strength Alloy
Steel GAL
Mast Clamping Bolts
4
6
Vertical Load (Kg)
400
700
1,000
Horizontal Load (Kg)
800
1,000
1,500
Dial Variable Speed Control
Provided on all models
Speed Seconds 50Hz/360 deg.
N/A
75 ~ 110
95 ~ 150
75 ~ 110
Speed Seconds 60Hz/360 deg.
N/A
60 ~ 95
80 ~ 125
60 ~ 95
Speed Speeds DC / 360 deg.
60 ~ 160
N/A
Reverse Delay Time (seconds)
0
1
3
Dial Pre-Set Function
N/A
N/A
Yes
N/A
Yes
Pre-Set Accuracy
N/A
N/A
+ - 8 deg
N/A
+ - 8 degrees
Remote Computer Connection
N/A
N/A
P model
N/A
P model
Power Requirements AC
N/A
90VA
150VA
200VA
170VA
Controller Input voltage
12 ~ 15v DC
Export model 115v & 230v AC
100v AC
Power Requirement @ 13DC
4.0 Amps
N/A
Indicator Accuracy
+ - 3 deg
Less than + - 4 degrees
+ - 3 deg
Controller weight (kg)
2.0
3.6
2.0
Rotator Weight (Kg)
5.0
7.0
8.5
29.5
Control Cable Requirements
5 core
7 core
Optional Accessories
MC-2 Lower Mast Clamp Assembly
N/A
Now available with NEW Option
a 250mm flying control cable lead for easier fitting within towers, POA. 
 
Below is a couple of pics of a display cut away version & 3 pics with the top housings & output flanges removed of a RC5 & RC5A + a pic of all parts inventory of a RC5A, Plus a YouTube video of the display cut-away rotator.
CLICK PIC to view in enlarged gallery form & click edge to move to next pic.
..........................................................................................................
DUORO Services
Installation & sales of communications equipment for
CB - Commercial - Amateur & Marine from the following suppliers.